J.J. GÓMEZ CAZA – SPECIALISTS IN HUNTING IN SPAIN
CAPRA WORLD SLAM IN SPAIN. GRAND SLAM CLUB OVIS.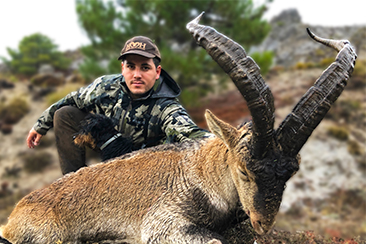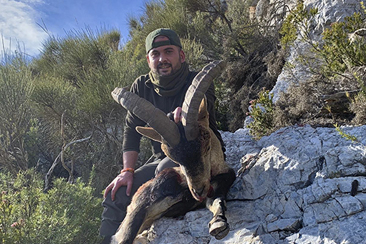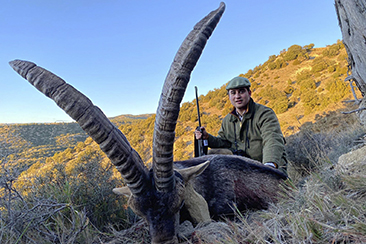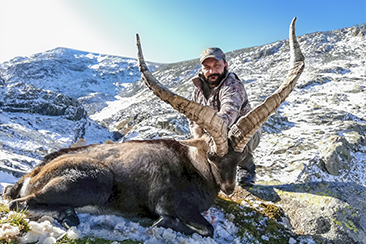 CAPRA WORLD SLAM AWARD. YOU CAN GET 6 OF THEM WITH US.
The taking of a Capra World Slam Award is probably the single most physically difficult accomplishment in the mountain hunting world. The Capra goats live in some of the steepest, most difficult and dangerous mountain habitat on the face of the earth. A CAPRA WORLD SLAM requires 12 different species (subspecies) of world animals and you can get 6 of them in Spain.
Get it with us.

CAPRA WORLD SLAM IN SPAIN. GRAND SLAM CLUB OVIS.
We can offer you, 6 of them species for hunt in Spain;  Gredos Ibex, Beceite Ibex, Ronda Ibex, Southeaster Ibex, Cantabrian Chamois and Pyrenean Chamois.
You can get 6 of the 12 species that you must hunt for the Capra World Slam With us. You can take advantage of the good weather in Spain, along with the best hunting gastronomy, hunting area, so your Capra World Slam will taste better than you can imagine. We will manage all the necessary documentation, taking care of you before, while and after the hunting trip to Spain. We will pick you up at the airport and take you to each hunting area, you will see how the quality and density of animals is very good, which makes the hunts in Spain more than guaranteed, you will enjoy good hotels and the incredible Spanish gastronomy.
Let yourself go and trust our team of professionals, and you will get half Capra World Slam in Spain. We will make you spend great hunting days in Spain, and you can hunt these highly desired species and with which you will have half the work done.
To do half the Capra World Slam, we strongly advise you to come hunting in the months of November, December or January.
IBEX.
Bezoar Ibex
Kri-Kri ibex
Persian Desert Ibex
Sindh Ibex
Gredos Ibex
Beceite Ibex
Southeastern Ibex
Ronda Ibex
Alpine Ibex
Nubian Ibex
Mid-Asian Ibex
Himalayan Ibex
Altay Ibex
Gobi Ibex
TUR.
Dagestan Tur
Kuban (Western) Tur
Mid Caucasian Tur
CHAMOIS.
Pyrenan Chamois
Cantabrian Chamois
Alpine Chamois
New Zealand Chamois
Carpathian Chamois
Balkan Chamois
Caucasian Chamois
Anatolian Chamois
Low Tatra Chamois
Chartreuse Chamois
Vercors Chamois
Goral
Serow
MARKHOR.
Bukharan Markhor
Astor Markhor
Kashmir Markhor
Kabul Markhor
Sulaiman Markhor
TAHR.
Himalayan Tahr
Himalayan/New Zealand Tahr
GOAT.
Chiltan Wild Goat
Mallorcan Wild Goat*
Bezoar (Hybrid) Ibex*
Kri-Kri (Hybrid) Ibex*
Feral Goat**
*doesn't count for Capra World Slam 12, but may be counted for the Super 20 & Super 30
**doesn't count for the Capra World Slam 12 or Super 20, but may be counted for the Super 30
Enjoy Spanish gastronomy while hunting.
Hunting does not have to be only shoot animals, but to delight the 5 senses, and one of the most appreciated is the palate, for this reason we select places where we can enjoy authentic Spanish gastronomy.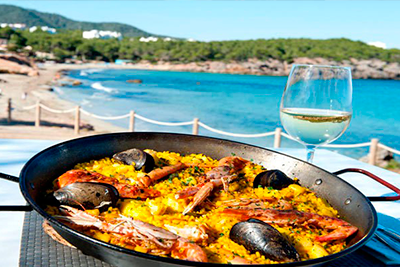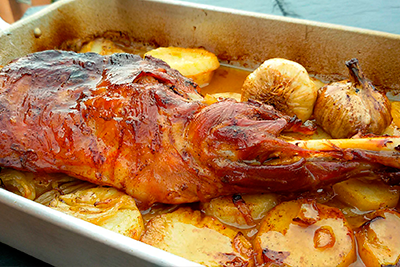 Other complementary activities.
In Spain, in addition to hunting, there are many other activities that can be perfectly matched according to the needs of our hunters.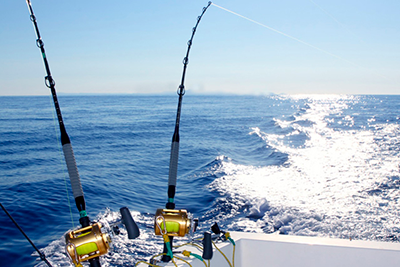 Typical celebrations and visits of Spain.
Spain is a land of many traditions, in which tourists can visit many events, depending on the dates to hunt. There are also many places of tourist interest to go.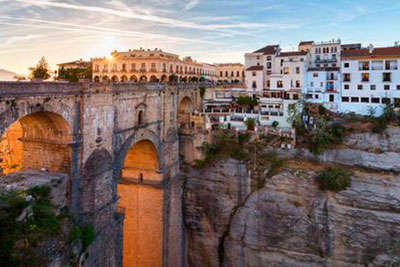 Accommodation in the hunting area.
We chose a high quality hotel in order to offer our customers the best options when they hunt with us. We are always trying to make them feel as in their homes, for that reason we take care of any single detail. Your comfort is our happiness.
14 hunting days/ 15 night, full board accommodation and a Representative Ronda, Southeastern, Beceite, Gredos Ibex, Cantabrian Chamois and Pyrenean Chamois.
It is included.
Full board accommodation.
Hunting the specified animals.
Personalized attention with a specialized hunting guide.
First preparation of the trophy, hunting certificates, documentation of the trophies, seals …
An interpreter per group. Whole hunt day.
Transportation from/to the airport from/to hotel and hunting area.
It is NOT included
Extra personal desires.
Plane tickets.
Gun rent: €90/day , ammunition €5/bullet
Tips to the profesional hunter and his team.
Alcoholic drinks.
Personal extras.
Everything which is not included in the programme.
Reserves and payment:
In order to reserve, the hunter has to get in contact with us in order to choose the date. After that, we will give him/her the account number in order to pay a quantity of the total price.
In order to reserve, the 25% of the total price has to be earn, the rest will be paid when the hunt finish. Until the company does not receive the 25% of the money, the hunting will not be reserved.

Lodging
Top quality accommodation *** or ****

Airports
Madrid, Málaga or Valencia. Consult us other airport.

Hunting seasson
Its necessary hunt in november-december-january.

Hunting zone
Tejeda and Almijara mountains. Ronda Ibex.
Beceite mountains (Teruel). Beceite Ibex.
Almería or Murcia. Southeaster Ibex.
Gredos Mountains. Gredos Ibex.
León Mountains. Cantabrian chamois..
Cataluña. Pyrenean chamois.

Type of hunting
Hunting is done by stalking. Free range.
Medium physical condition is required. Shoot at 150-180 meters.