J.J. GÓMEZ CAZA
Hunting in Kyrgyzstan. We hunt ibex
Hunting in Kyrgyzstan. High mountain hunting in Kiguizia.
Hunt in Kyrgyzstan. We make available to our hunters, several camps for hunting in Kyrgyzstan, where we can hunt ibex, polo frame and wolves.
The hunting in Kyrgyzstan is a unique experience, in which the hunters who have already lived it, assure that it is one of the hunting experiences of their life.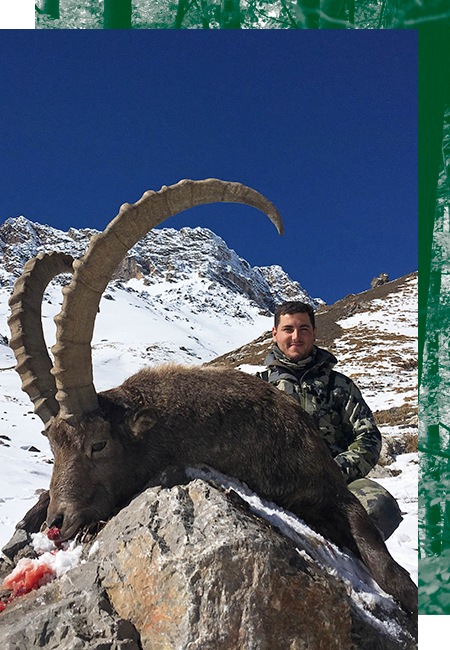 We hunt in one of the most beautiful areas of Kirghizia, with a density and quality of animals guaranteed.
It is included.
Full board accommodation.
Hunting the specified animals.
Personalized attention with a specialized hunting guide, including 3 hunting days.
First preparation of the trophy, hunting certificates, documentation of the trophies, seals …
An interpreter per group. Whole hunt day.
Transportation from/to the airport from/to hotel and hunting area.
It is NOT included
Extra personal desires.
Plane tickets.
Gun rent: €60/day , ammunition €5/bullet
Tips to the profesional hunter and his team.
Alcoholic drinks.
Personal extras.
Everything which is not included in the programme.
Reserves and payment:
In order to reserve, the hunter has to get in contact with us in order to choose the date. After that, we will give him/her the account number in order to pay a quantity of the total price.
In order to reserve, the 25% of the total price has to be earn, the rest will be paid when the hunt finish. Until the company does not receive the 25% of the money, the hunting will not be reserved.

Lodging
In the vicinity of the farm are all types of rural accommodation, hostels, hotels …, depending on the needs of the client.

Hunting license
Hunting License If you do not have it, we can manage it ourselves.

Hunting season
From September 15 to February.

Situación
El cazador dejará su coche en el parking del hotel, en el cual se le recogerá y dejará una vez finalizada la cacería.

Tipo de cacería
Garantías máximas. Adaptable a cualquier cazador. Se puede cazar a rececho o en aguardo.