J.J. GÓMEZ CAZA – SPECIALISTS OF HUNTING IN SPAIN

Ronda Ibex in Spain
---
Dates: 1st October to 30th June (3 hunting days / 4 nights approx.)
---
Hunting zone: Tejeda, Almijara and Ronda Mountains.
---
Airport recommend: Málaga. Consult us other airport.
---
Hunting type: Hunting is done by stalking. Free range. | Medium physical condition | Shoot at 150-180 meters
---
Top quality acommodation: *** or ****
---
---
Optional hunting trip film (contracted separately).
Ronda Spanish Ibex is the smallest antler ibex of the four subspecies that we have in Spain, its antler has an average of 50-55 cm in length, even so, it is a hunt that is very close to the coast from Malaga and Marbella, and is one of the most chosen by our hunters. Being able to hunt near the Costa del Sol is a pleasure, since after the Ronda Ibex hunt, you can enjoy the best beaches and services in Spain.
Hunting Ronda Spanish Ibex
The coat of the Ronda Ibex Spanish is much lighter than in other areas, and you do not have the colors as black as the other subspecies.
Ronda Ibex is located on the natural parks of Sierra de las Nieves and Sierra de Grazalema, which have a great natural wealth with lots of animals' species and vegetation. Regarding the vegetation, we can find some plants which are considered exclusives in the world, like the Spanish Fir or the Gall Oak. In addition, some animals like the Spanish Ibex or the otter keep a wide population of individuals.
Ronda Spanish Ibex hunting offer, we prepare your hunting trip, so that it is an experience in hunting Ronda Ibex.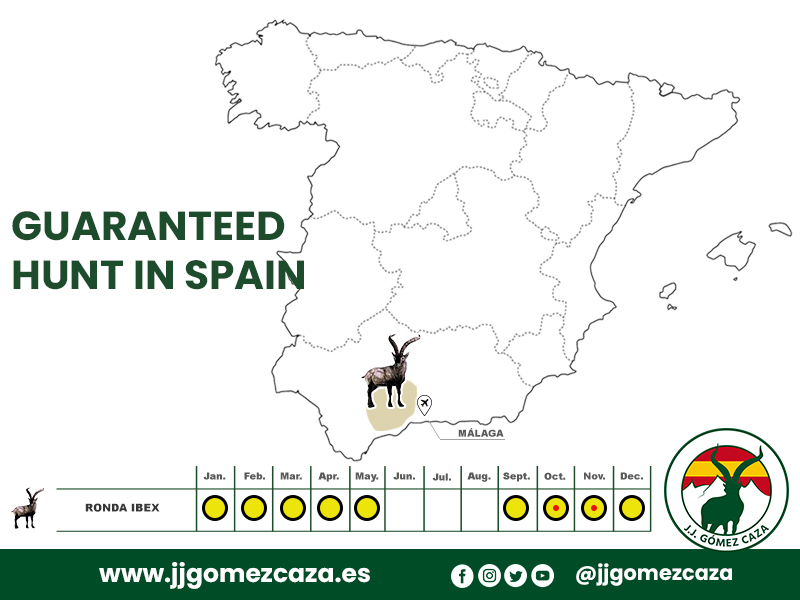 Although these mountains are very high, the mediterranean climate alows us to hunt during the whole year, including in winter. The hunting area has a wide and large parth network which permit us to walk easily when it is impossible to go by car.
3 hunting days/ 4 night, full board accommodation and a Representative Ronda Ibex Hunting in Spain.
Ronda Spanish Ibex
The area in which we hunt is not too hard, we will always adapt it to the needs of each of our hunters, but the views and landscapes that we can enjoy are spectacular. All hunters who come want to repeat, also later accompanied by their partner or family.
The biotope that you will find in this area is very varied, hills, valleys, forests of olives trees, pines and oaks. You will have the opportunity to meet many specific species of the high mountains (over 2,300m above the sea level).

Conditions for the Ronda Spanish Ibex Hunt
It is included:
Full board accommodation.
Hunting the specified animals.
Personalized attention with a specialized hunting guide, including 3 hunting days.
First preparation of the trophy, hunting certificates, documentation of the trophies, seals …
An interpreter per group. Whole hunt day.
Transportation from/to the airport from/to hotel and hunting area.
It is NOT included
Extra personal desires.
Plane tickets.
Gun rent: €90/day , ammunition €5/bullet
Tips to the profesional hunter and his team.
Alcoholic drinks.
Personal extras.
Everything which is not included in the programme.
Reserves and payment:
In order to reserve, the hunter has to get in contact with us in order to choose the date. After that, we will give him/her the account number in order to pay a quantity of the total price.
In order to reserve, the 25% of the total price has to be earn, the rest will be paid when the hunt finish. Until the company does not receive the 25% of the money, the hunting will not be reserved.
| | | |
| --- | --- | --- |
| SCI Score | Standard | Bow |
| Bronze Score Ibex | 56 | 50 3/8 |
| Silver Score Ibex | 61 7/8 | 0 |
| Gold Score Ibex | 66 1/8 | 53 7/8 |
| | |
| --- | --- |
| CIC Score | Standard |
| Bronze Score Ibex | 170 to 194'99 |
| Silver Score Ibex | 195 to 209'99 |
| Gold Score Ibex | 210 to 220 |
Frequently asked questions about Ronda Spanish Ibex Hunt
Who is the Ronda Ibex price?
Contact us to receive a personalized quote. The price to hunt a Ronda Ibex was obtained from the trophy that you want to take home.
How many days do I need to hunt the Ronda Spanish Ibex?
We dedicate 3 hunting days and 4 nights approximately. Ronda Ibex hunting is not difficult, the hunting is done by stalking.
What date do you recommend to hunt the Ronda Ibex in Spain?
You can hunt from October 1st to June 30th. The most indicated dates to have an almost guaranteed success are from October to November.
What airport should I go to for this stalking?
We recommend Malaga airport due to its proximity to the hunting area. If you have to go to another airport, contact with us and we will adapt.
I want to make a reservation. How do I do it?
Once we have sent you the budget, you must make a transfer with the dates that we tell you.
We will also send you a short questionnaire to get to know you better and find out some essential things about you and your companions. This helps us to improve your experience with us during the hunt.
Will someone meet me at the airport?
Yes, the JJ Gomez team will be waiting for you when you arrive in Spain.
Can I stalk with friends or family?
Of course, you can come accompanied by whoever you want. If you prefer, we can organize some small trips near the area.
Is the hunting area suitable for me or is it too complicated?
The hunt is suitable for anyone and your physical condition will not be decisive in getting a Ronda ibex trophy or not, but you must tell us what your physical condition is so that we can adapt the hunt.
Do you recommend any type of clothing for the Ronda Ibex Hunt?
We recommend you bring warm clothes, but you can take off a layer without problems, since temperatures tend to rise as the hours of the day go by.
Also some hiking boots and a backpack with some water and food.
Do I have to take my rifle?
You can bring your weapon if you want, but we have rifles for rent that are prepared for long-distance shooting.
If you bring your rifle, it will be enough with calibers 30-06.7 mm or 300 Win. Mag.
What do you do with my Ronda Ibex trophy?
We make a first preparation in the hunting area for the taxidermist to take the trophy of Ronda Ibex.
You will receive your trophy within 3-4 months and a minimum of 6 months if you want to make the bust.
YOUR HUNTING TRIP FILM
Remember your hunting day with a professional report!
Our professional team
Will ensure that you have a great video production of your hunt in Spain, in which you will be the main character.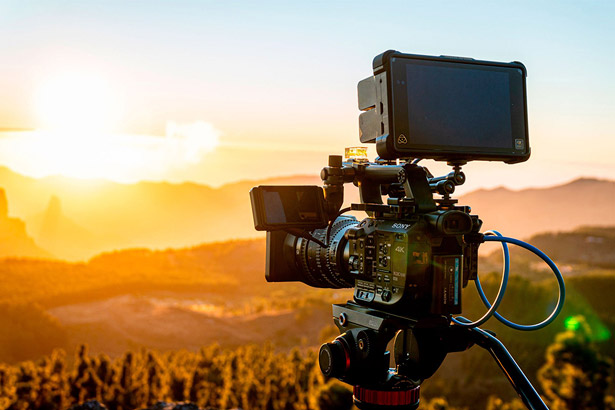 What we do:
Direction/Montage
Video Editing
Include Music and Highlights
Outdoor / Extreme / Drone
Photos from video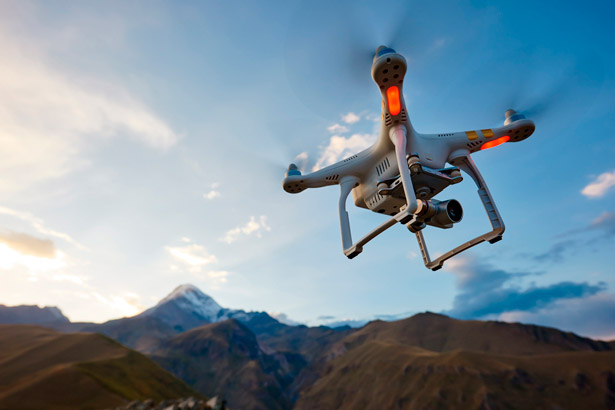 Do not worry about your hunt, the production process and our team will not affect or be a distraction for you.
THE HUNTING FILM OF YOUR LIFE
Option 1. PRIVATE VIDEO
Video of 20-25 min. Estimated time but it depends on the material recorder, the video is totally yours.
Option 2. SPECIAL OFFER
Video of 20-25 min and 4-5 min teaser. Video shared with J.J. Gómez Caza, the company may also use your material for advertising purposes. They will also need a small assessment by the hunter.

Price per hunter, it two hunters will come and each one wants a different video they would be individual prices.
A unique memory, your film for lifetime like this video:
Enjoy Spanish gastronomy while hunting
The Mediterranean gastronomy is well known for the diversity of dishes it has and because they are among the healthiest meals, you will enjoy the best and typical Spanish meals, totally traditional.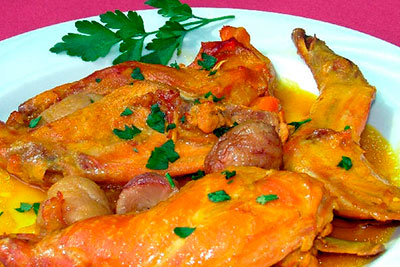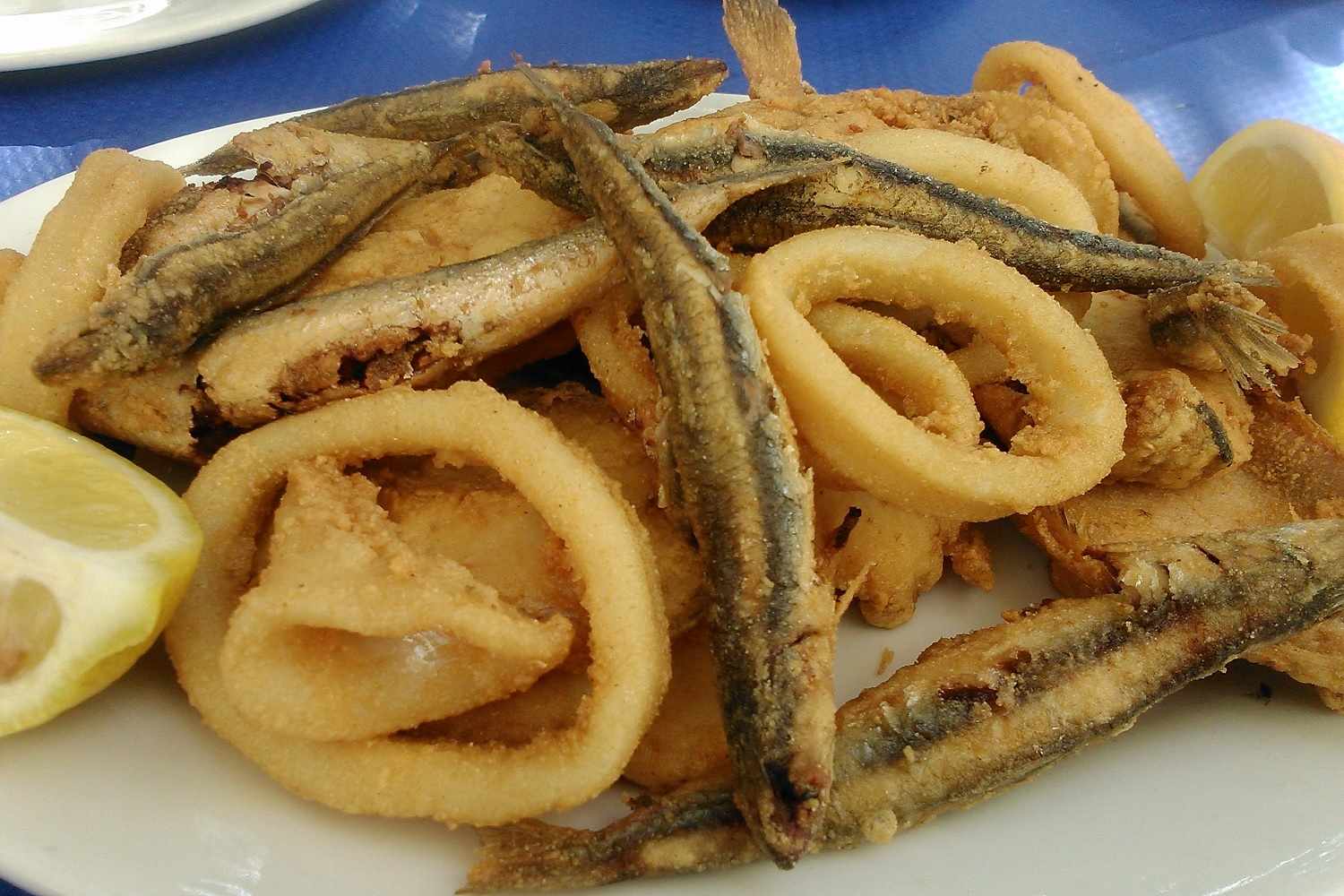 Other complementary activities
By carrying out the hunt so close to the Mediterranean Sea, it allows us to organize the best excursions, holidays, alone, with your partner or family, you will enjoy the Costa del Sol, with infinite opportunities to carry out activities, visits or simply enjoy the best beaches.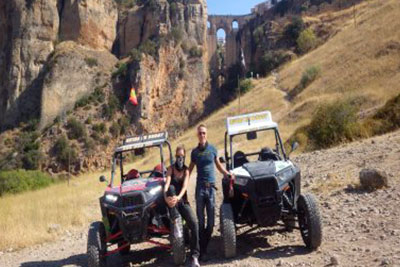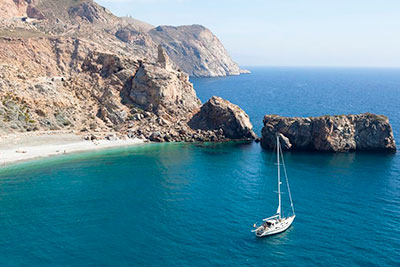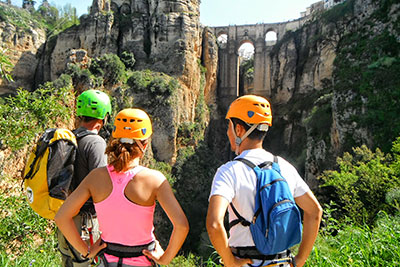 Typical celebrations and visits of Spain
Spain is well known for the typical celebrations that are completely different in each area, we can organize guided tours according to your needs, you will enjoy hunting the Ronda Ibex and when your hunting ends also in the area where you are.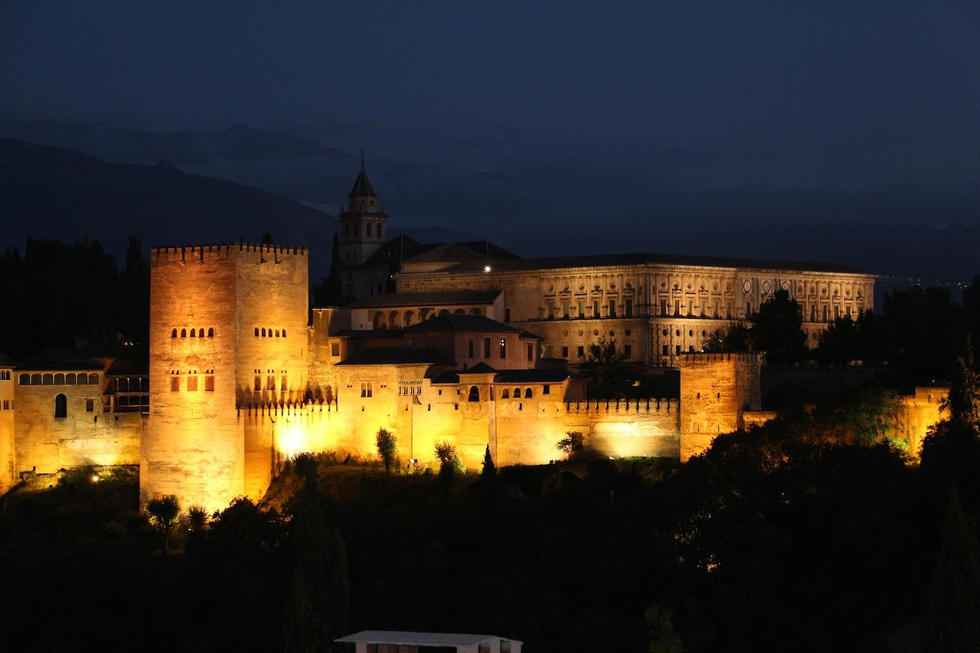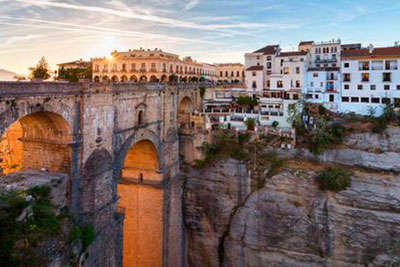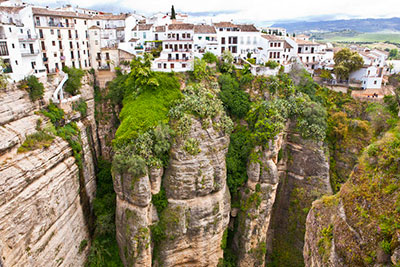 Accommodation in the hunting area
We chose a high quality hotel in order to offer our customers the best options when they hunt with us. We are always trying to make them feel as in their homes, for that reason we take care of any single detail. Your comfort is our happiness.
Get the Ibex Grand Slam in Spain Award and Capra World Slam Spanish with JJ. Gómez Caza
The most attractive hunting challenges await you. The hunting Ibex in Spain has a prize. Which prefer?
Get one of the most precious trophies in Spain by international hunters. The Grand Slam Spanish Ibex Award. In just 10 days, the JJ Gómez Caza team will make you get these species:
Ronda Ibex
Southeastern Ibex
Gredos Ibex
Beceite Ibex
Capra World Slam in Spain
The international prestige endorses one of the most precious awards such as the Capra World Slam. 14 days of intense hunting through Spanish territory:
Pyrenean Chamois
Cantabrian Chamois
Ronda Ibex
Gredos Ibex
Beceite Ibex
Southeastern Ibex