J.J. GÓMEZ CAZA – SPECIALISTS IN HUNTING IN SPAIN

Southeastern Ibex Hunting in Spain
Southeastern Ibex in Spain
---
Dates: 15th October to 15th April (3 hunting days / 4 nights approx.)
---
Hunting zone: Albacete, Murcia, Almería, Sierra Nevada (Granada).
---
Airport recommend: Alacant. Consult us other airport.
---
Hunting type: Hunting is done by stalking. Free range. | Medium physical condition | Shoot at 150-180 meters
---
Top quality acommodation: *** or ****
---
Consult us Southeastern Ibex price
---
Optional hunting trip film (contracted separately).
Southeastern Spanish Ibex or Sierra Nevada Ibex is smaller and lighter in color than the Beceite and Gredos types, but larger and darker than the Ronda type. Southeastern male's horns rise vertically and lean out and back in a simitar form with the tips inward, although the keel is smooth, making horns grow proportionately with age (one ring per year), horn size and shape vary considerably from place to place.
Southeastern Spanish Ibex Hunting
Southeastern Ibex lives in groups in separate herds, one composed of females and young males and another composed of adults males. This last group only approaches the female one during the rutting season in November – December, when spectacular flights can be observed between adult males for group hierarchy.
Southeastern Spanish Ibex Hunt Area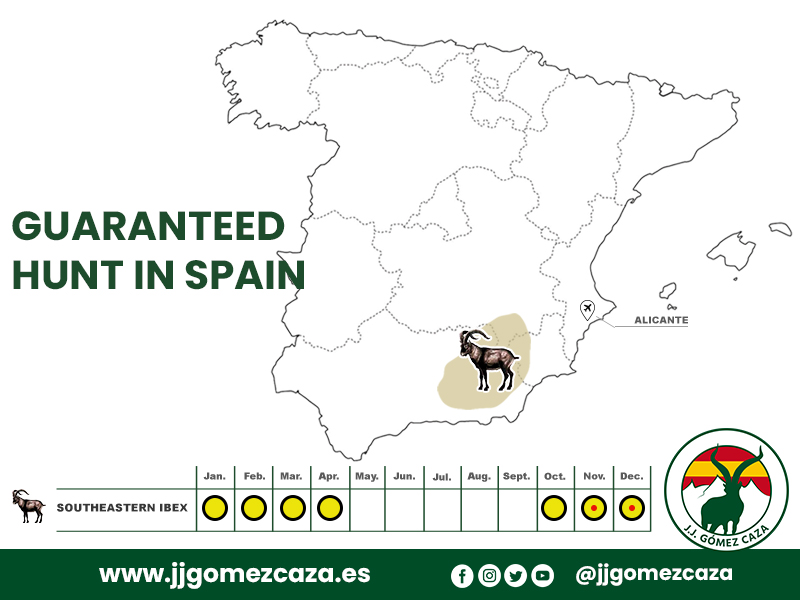 Andalucia has gorgeous landscapes and rough mountain ranges. Due to that, andalucia has the greatest amount of Spanish Ibex in our country. What is more, all the mountain ranges are inhabited by this kind of Ibex.
The hunting area is a few kilometers northeast of Granada, in a place called Sierra Nevada, which is considered the most emblematic mountain of the hunting of this type of Ibex. The biotope that you will find in this area is large and varied, having the opportunity to meet many species of the high mountain.
Southeastern Ibex Hunting Season is in November or December.
3 hunting days/ 4 night, full board accommodation and a Southeastern Ibex Hunting in Spain, no limit points, included.
Southeastern Ibex Hunt or Sierra Nevada Ibex Hunt
The densities os this subspecies are much smaller than those of the ibex of Beceite or Gredos, so it must be admitted that it is a real challenge to hunt a great trophy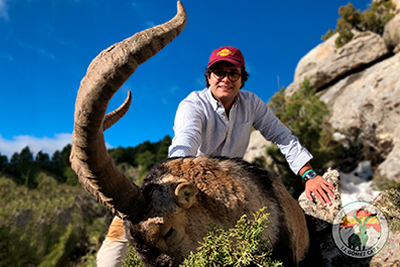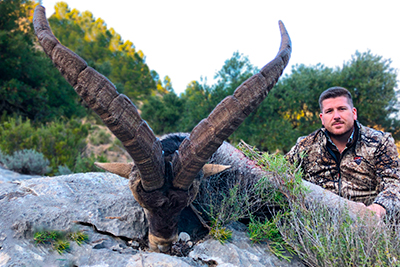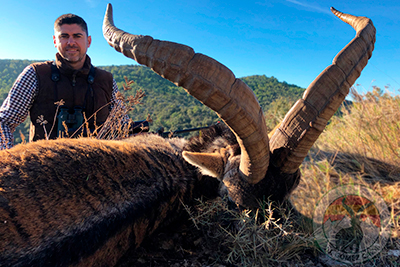 Consult us for your Southeastern Ibex Hunt in Spain with all the guarantees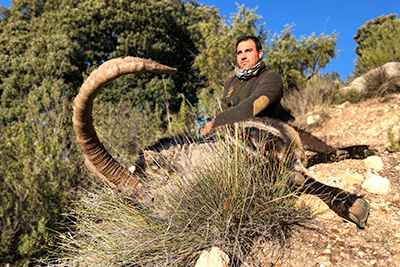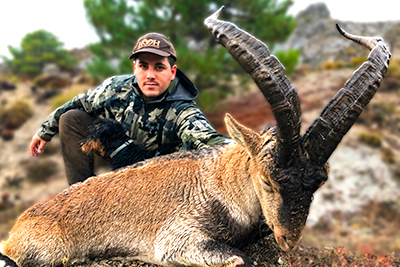 We have been satisfying all our clients for many years, who come to hunt ibex with us
Sierra Nevada ibex trophy is one of the smallest, fairly curved, just like the Ibex of Ronda.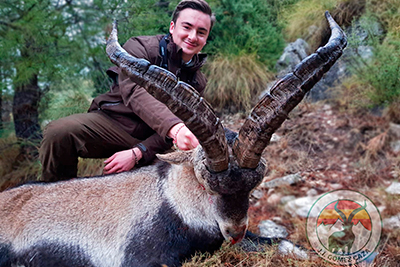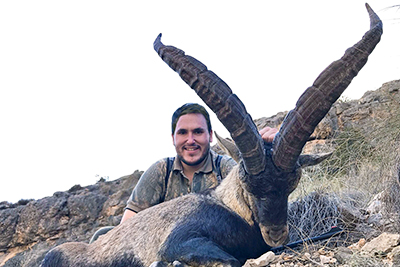 Southeastern Ibex in Spain
Sierra Nevada is a mountain range in the region of Andalucia, in the province of Granada and, a little further, Málaga and Almería in Spain. It contains the highest point of continental Spain, the third highest in Europe, after the Caucasus Mountains and the Alps, Mulhacén at 3,478m above sea level. This animal lives in rocky mountains between 1000-2200m, so a good physical condition is required.
Conditions for the Southeastern Spanish Ibex Hunt
It is included:
Full board accommodation.
Hunting the specified animals.
Personalized attention with a specialized hunting guide, including 3 hunting days.
First preparation of the trophy, hunting certificates, documentation of the trophies, seals …
An interpreter per group. Whole hunt day.
Transportation from/to the airport from/to hotel and hunting area.
It is NOT included
Extra personal desires.
Plane tickets.
Gun rent: €60/day , ammunition €5/bullet
Tips to the profesional hunter and his team.
Alcoholic drinks.
Personal extras.
Everything which is not included in the programme.
Reserves and payment:
In order to reserve, the hunter has to get in contact with us in order to choose the date. After that, we will give him/her the account number in order to pay a quantity of the total price.
In order to reserve, the 25% of the total price has to be earn, the rest will be paid when the hunt finish. Until the company does not receive the 25% of the money, the hunting will not be reserved.
YOUR HUNTING TRIP FILM
We record your hunting day so that you can always remember those experiences you lived!
Our professional team
Will ensure that you have a great video production of your hunt in Spain, in which you will be the main character.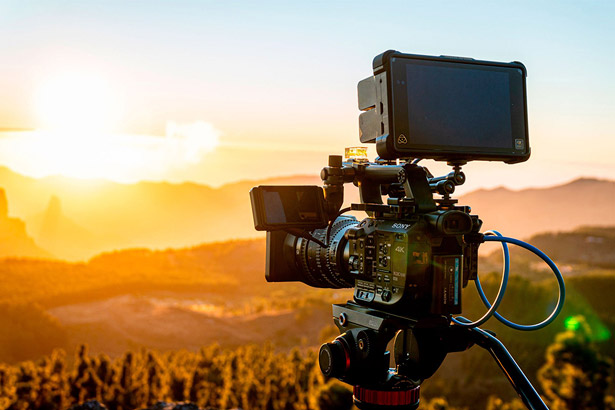 What we do:
Direction/Montage
Video Editing
Include Music and Highlights
Outdoor / Extreme / Drone
Photos from video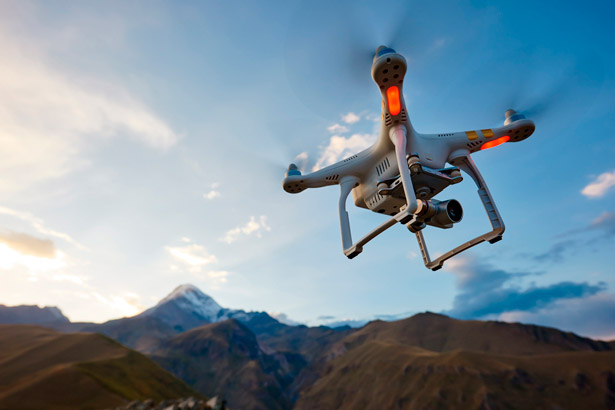 Do not worry about your hunt, the production process and our team will not affect or be a distraction for you.
THE HUNTING FILM OF YOUR LIFE
Option 1. PRIVATE VIDEO
Video of 20-25 min. Estimated time but it depends on the material recorder, the video is totally yours.
Option 2. SPECIAL OFFER
Video of 20-25 min and 4-5 min teaser. Video shared with J.J. Gómez Caza, the company may also use your material for advertising purposes. They will also need a small assessment by the hunter.

Price per hunter, it two hunters will come and each one wants a different video they would be individual prices.
A unique memory, your film for lifetime like this video:
Southeastern Ibex Trophies
| | | |
| --- | --- | --- |
| SCI Score | Standard | Bow |
| Bronze Score Ibex | 69 | 62 |
| Silver Score Ibex | 75 | 4/8 0 |
| Gold Score Ibex | 80 1/8 | 66 1/8 |
| | |
| --- | --- |
| CIC Score | Standard |
| Bronze Score Ibex | 205 to 219'99 |
| Silver Score Ibex | 220 to 229'99 |
| Gold Score Ibex | 230 |
Enjoy Spanish gastronomy while hunting
You could enjoy of the good mediterranean food, we´ll take you to the most emblematic restaurants of the zone where you could enjoy a wide and wonderful gastronomy.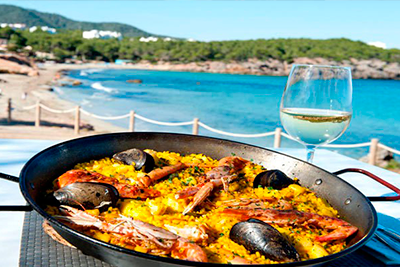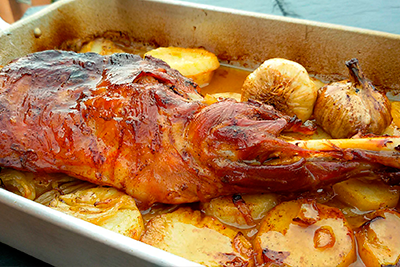 Other complementary activities
If during your stay in Spain, you want us to take care of organizing some day of leisure and tourism, or maybe while you are hunting you want us to take your friends, wife or family to do another activities around the zone, you just have to say it!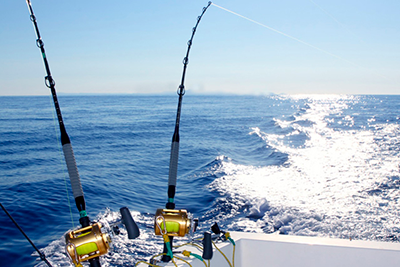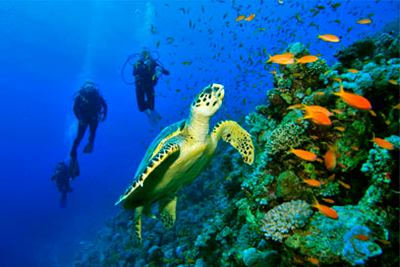 Typical celebrations and visits of Spain
In addition to the tourism sometimes we coincide with regional parties, festivals and traditional days in towns around the hunting area, we can go to visit some of this festivities or interest places including beaches.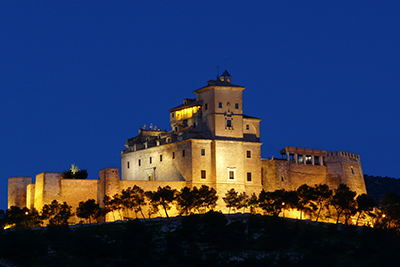 Accommodation in the hunting area
Regularly we choose three or four stars hotel, although on occasions the hunting zones there are very remote places and accommodations are more normal to do not go on long distance by day, we certify that all of them are up to the hunter's expectations. We will give you a treatment with all the comforts that will make you feelin home by the most modern and thematic accommodations in the area.
Your comfort is our happiness.
It is a popular tourist destination, as its high peaks make skiing possible in one of Europe's most southerly ski resorts, in an area along the Mediterranean Sea, predominantly knows for its warm temperatures and abundant sunshine. At its foothills, is found the city of Granada and, a little further, Almería and Málaga.

Frequently asked questions about Southeastern Spanish Ibex Hunt
Who is the Southeastern Spanish Ibex price?
The price to hunt an Southeastern Ibex depends on the type of trophy you want to get. Get in touch with us and we will make you a personalized quote without obligation.
How many days are needed to hunt the Southeastern Ibex in Spain?
3 days and 4 nights will be enough to take your trophy. The wild hunting of this animal is a challenge that we will make a reality with you.
What date do you recommend to hunt the Southeastern Spanish Ibex?
The Southeastern Ibex is recommended to be hunted during the last 10 days of November or during the month of December, coinciding with the rut. If it is a selective ibex, you can come from October 15 to January 15, any date would be good for that hunt. The dates with the most guarantees are from November to December. Check the Spain hunting season.
Which is the closest airport?
Alicante airport, there are approximately 1.5 hours' drive, by good highways and roads.
How to formalize a reservation and how much time in advance?
When we have sent you the detailed budget, you must make a transfer that we will specify the details, we will send you a questionnaire to know you better and know some essential things about you and your companions, for the best development of the hunt.
It would be convenient to book with a minimum of 6-9 months, we can organize it with less time, but we may already have dates covered, better ask us.
Who picks me up at the airport and takes care of me?
Our team will personally pick you up.
What does it mean; Representative Ibex without point limits?
It means that at least we are going to hunt an ibex close to a bronze medal, but that we will always hunt the largest we see, even if it is a medal you can also hunt it.
Can I travel with companions?
Yes, you can come accompanied by whoever you want through the hunt or if you prefer, we can organize some small trips near the area.
Is it a very hard hunting area for Sierra Nevada Ibex?
Keep in mind that physical condition is not a limiting factor to achieve the hunt or not, you just have to tell us about your condition, we will look for the perfect area in which we will adjust the hunt to you, but you have to be honest to us from the beginning.
What kind of clothes do I have to wear?
We recommend that you bring warm clothes, but also that you can take off a layer, during the day temperatures tend to rise quite a bit, it does not usually snow much in this area, but once a year it does. Mountain boots and a backpack in which you can carry some water or food.
We have some weapons to rent, for your comfort, they are also set to shoot at long distance if you prefer, they are calibers. 30-06.7 mm and 300 Win. Mag.
What caliber is the right one?
The ibex is not an excessively tough animal, hitting it with a good shot will be enough, so a 270, 7mm, 30-06, 300 are any of them good calibers.
How do I make the rest of the payment?
The rest of the payment will be made on the last day in the hunting area and in cash.
What do you do with my trophies of Sierra Nevada Ibex?
We will do the first preparation of the trophy in the field, then your trophies are taken to our taxidermist, depending on what you want to do, in an approximate period of 3-4 months vou will receive it at your home, if you are going to do it as a bust it will take a minimum of 6 months.
Get the Grand Slam Spanish Ibex Award and Capra World Slam in Spain with JJ. Gómez Caza
The most attractive hunting challenges await you. The hunting Ibex in Spain has a prize. Which prefer?
To achieve the Grand Slam Spanish Ibex Award, we spend 10 days hunting throughout the territory of Spain. Trust a professional team like JJ. Gómez Caza that organizes your hunting program to achieve the trophies.
Southeastern Ibex
Beceite Ibex
Ronda Ibex
Gredos Ibex
Capra World Slam in Spain
14 days of intense wild hunting await you. Get the most recognized ibex hunting award Spanish, the "Capra World Slam in Spain". We measure every detail of the hunting program so that you can achieve your objectives.
Pyrenean Chamois
Cantabrian Chamois
Southeastern Ibex
Ronda Ibex
Gredos Ibex
Beceite Ibex