J.J. GÓMEZ CAZA – SPECIALISTS IN HUNTING IN SPAIN
Wild boars stalking or waiting at night in Spain

Wild boars stalking or waiting at night in Spain
We offer something that we have been doing for many years now, more with Spanish hunters, because the non-Spanish hunter is unaware of this type of hunting and does not claim it. But more and more hunters ask us to make this type of hunting compatible with many others.
In Spain, it is totally legal to be able to hunt wild boars at night, and we hunt them stalking and in the form of waiting or waiting at night. Most hunters have never practiced this modality and it is the most fun you can hunt.
Stalking;
It consists of the visualization of the boars at night, and once located, we make the entrance as any other type of animal when we do it during the day, but it would be at night.
I wait or wait;
It is when we put ourselves in a fixed point waiting for the wild boars to enter a trough, drinker or any other point of food or water.
We combine the two modalities at night, that is to say, stalking and waiting or waiting. We help ourselves by night and thermal devices to locate the animals and be able to approach them.
It is a super fun modality, since in one night many boars are seen and the normal thing is to be able to shoot 2-3 boars at least per night. It must be said that we start hunting in the afternoon when it begins to get dark, until morning when it starts to get light, although the hunter decides when we stop hunting, in case he is tired.
We try to help with the car, since there are times that we locate the boars more than 2 kilometers away with the thermal devices, and we approach with the car as much as we can, and then make the approach by stealthily walking and catching the wind head on so that the boars cannot locate us.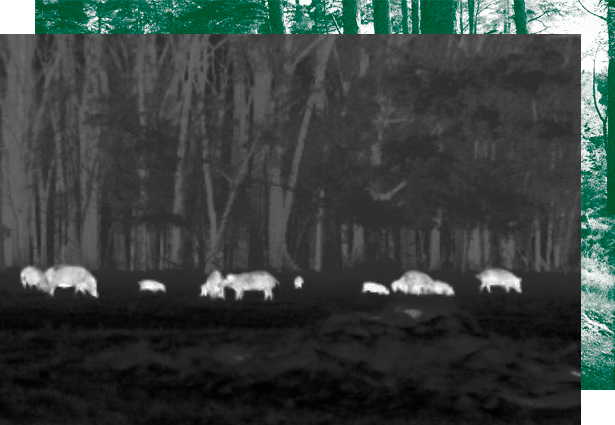 Although it is a hunt that involves quite a lot of difficulty, we can give the absolute guarantee in this hunt, because at the end of the year, we shoot around 180-200 wild boar in this way, and our team has extensive experience in these hunts.
We carefully prepare each of the details so that everything goes well, our staff controls for many days in a row, what the boars do at night and where they move. So the hunting days have a resounding success.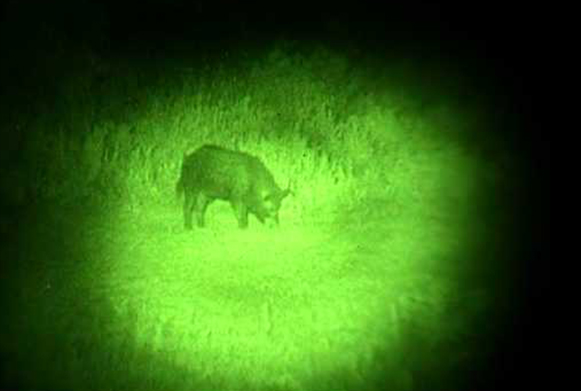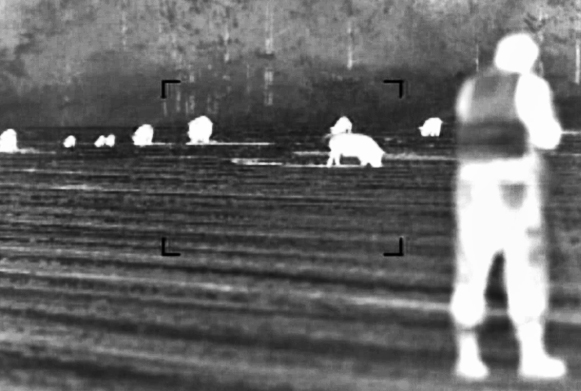 We shoot boars, whether male or female, that have more than 60 kilos, regardless of their sex. (males or females)
Normally we go into areas where wild boars are eating with complete tranquility, natural food, cereal crops, fruit trees, swamps, rivers … where wild boars find their perfect habitat.
It is a hunt for real hunters, who like wild boar and want to have fun like never before.
We give full guarantee on this hunt !!
Enjoy Spanish gastronomy while hunting.
In the same hotel you could enjoy of the best and authentic Spanish gastronomy, typical recipes from the zone, meat selection with the best wines and great quality ham, this is one of the strongest points of this lodgings, quality and good gastronomy.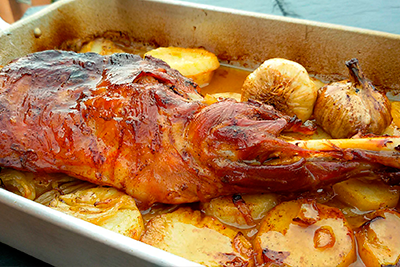 Other complementary activities.
If through your stay in Spain, you want to make a leisure and tourism trip for your companions or family before, after or while you´re hunting, we will take care of everything, we have tourism guides ready to your service, just let us know. In addition, the beach is less than an 1,5 hours away, you can go on boat trips or whatever you want.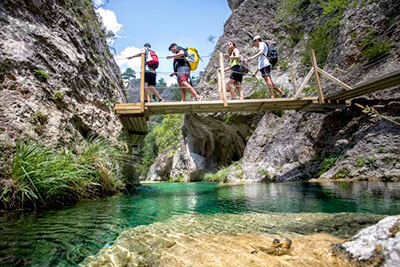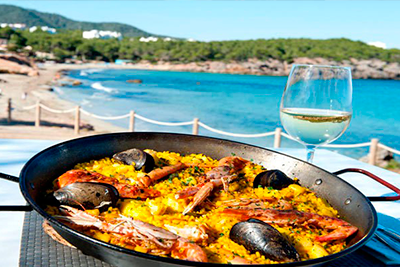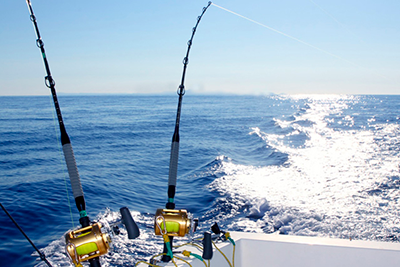 Typical celebrations and visits of Spain.
Near of the hunting zone we can visit towns with tourist interest, in which can be do some guided trips.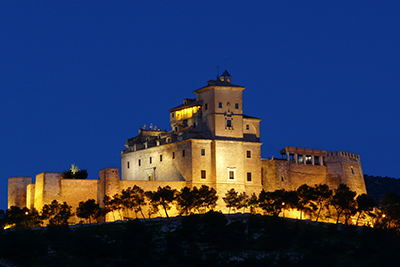 Accommodation in the hunting area.
The hotel is in one of the quietest places you can imagine, very close, but isolated from the population, in the middle of nature surrounded by the four sides of our hunting area, you can go out with the rifle on your shoulder hunting from the hotel .
7 wild boars included. 2 hunting nights / 3 days full board accommodation. (6 wild boars guaranteed)
10 wild boars included. 3 hunting nights / 4 days full board accommodation. (8 wild boars guaranteed)
It is not hunted during the day. We will hunt all night, from dark until dawn. (Depending on the hunter's resistance).
Both male and female wild boars weighing approximately 60 kg will be hunted. (Trying to kill the older and older wild boars, according to what the hunting guide indicates).
It will be counted as a wild boar if the hunter lets wild boars pass and does not shoot. You cannot let boars pass and not shoot, otherwise it will count you as a downcast.
It will count as one wild boar, when the hunter shoots, whether it kills it, hurts it or misses it, it will count as one less wild boar, for each time it shoots each different wild boar.
There will be no extra charges if you hunt a male trophy.
It is convenient that the hunter does not bring his own weapon, since we have ours ready to shoot at night with spotlights. The rifle can be tested before hunting.
Extra wild boar out of package. € 300
If in the case of killing fewer wild boars than we have guaranteed, a part of money would be discounted in that concept.
The best months to hunt many wild boars are June, July, August, September, October.
We only shoot adult wild boars, as old as possible, whether male or female.
It will be necessary to contract the hunt with enough time in advance, if not, we cannot assure you that we can carry it out.
Throughout the night you will be accompanied by a professional hunting guide from our company, who will indicate at all times how the hunt will be developing.
The guarantee of success is almost guaranteed, we have prepared it very well for our hunters to enjoy.
We can hunt with a maximum of 2-3 hunters depending on the dates to hunt. Ask us !!
It is included.
Full board accommodation.
Hunting the specified animals.
Personalized attention with a specialized hunting guide.
First preparation of the trophy (males), hunting certificates, documentation of the trophies, seals …
An interpreter per group. Whole hunt day.
Transportation from/to the airport from/to hotel and hunting area.
It is NOT included
Extra personal desires.
Plane tickets.
Gun rent: €60/day , ammunition €5/bullet
Tips to the profesional hunter and his team.
En caso de que haya que buscar algún jabalí herido al día siguiente con los perros, habrá que dar una propina de 50€ al rastreador.
Alcoholic drinks.
Personal extras.
Everything which is not included in the programme.
Reserves and payment:
In order to reserve, the hunter has to get in contact with us in order to choose the date. After that, we will give him/her the account number in order to pay a quantity of the total price.
In order to reserve, the 25% of the total price has to be earn, the rest will be paid when the hunt finish. Until the company does not receive the 25% of the money, the hunting will not be reserved.

Lodging
Top quality accommodation ***

Airports
Alicante. Consult us other airport.

Hunting seasson
All year. It is necessary to consult the dates.

Hunting zone
Free range. Albacete and Murcia.

Type of hunting
Hunting is done by stalking or waiting. Free range.
The physical condition is not important. You will hunt with our weapons.