J.J. GÓMEZ CAZA – SPECIALISTS IN HUNTING IN SPAIN

Hunting Beceite Spanish Ibex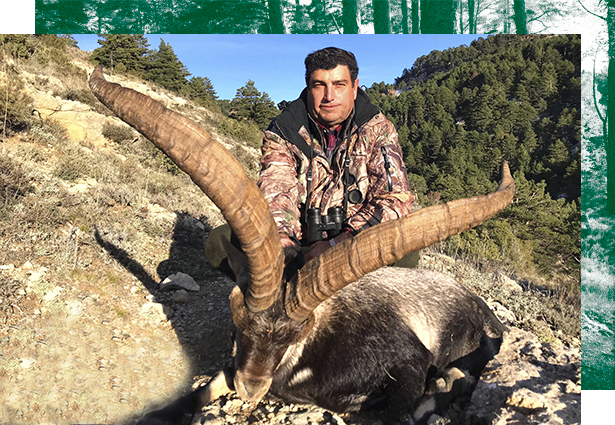 Beceite Ibex hunting is one of the hunting trips that best represent Spain. What is more, the hunting areas are located in beautifull mountains, offering breathtakings views of Spain. We are Spanish Outfitter Specialized in Spanish Ibex Hunt.
Beceite Ibex in Spain
---
Dates: October to June (2 hunting days / 3 nights approx.)
---
Hunting zone: Beceite Mountains, Teruel, Aragón.
---
Airport recommend: Alicante or Valencia. Consult us other airport.
---
Hunting type: Hunting is done by stalking. Free range. | Medium physical condition | Shoot at 150-180m
---
Top quality acommodation: *** or ****
---
The Beceite Ibex hunting is one of the most amazing of Spain, since we can find one of the bigger trophies of the fourth kinds of ibex in Spain, is a place where we can guarantee that we could hunt trophy ibex from any category.
Beceite's mountains are a spectacular place with a calcareous nature and a humid climate which facilitate the growth of forests compound by pines, oak groves, holly, maple, yew and also a small population of beeches wich form the greatest beech forest in the Iberian peninsula.
We offer you the possibility to hunt one of the most interesting subspecies of the Spanish Ibex, the Beceite Ibex, close to the Mediterranean see between Teruel, Barcelona and Valencia.
Beceite Ibex with long horns is abundant and the trophiess are impressive and they represent perfectly this kind of specie.
The hunting area is specially good, we already been hunting by many years, with a high successful rate of all the hunting's, both the quantity of animals and the quality of the trophies make all our hunters always leave happy.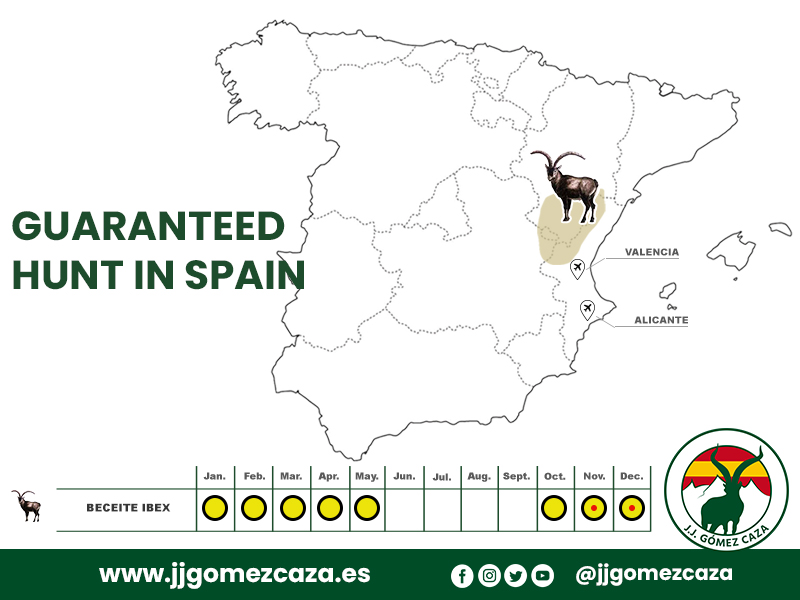 Beceite Ibex Hunt
The hunting scenery is located about an hour from Valencia, and less than an hour and half, we have the possibility to hunt many other animals, near of the hunting area. Depending of the physical condition of the hunter, we'll make the hunting in one zone or another to adapt it to each hunter.
We'll sleep in a good rural hotel with all amenities, in the middle of the country, in which the service is absolutely good and the food that they make is typical from the area. Only good meat and wines from the area.
2 hunting days/ 3 night, full board accommodation and a Representative Beceite Ibex Hunting in Spain.
What our clients say about this offer
I just want to say thanks to J.J. Gómez hunt, and Santos especially because the whole day since we arrived, everything is been just beyond my expectations, the delicious dinner and the hotel, Santos was there to take care of us he made it possible that we could do the shot done, it was a…
Hunting with J.J. Gomez was extremely well organized and professionally implemented. The booked hotel is comfortable and offers the best service. The mountain area is rich in game and very scenic. Overall, the Beceite ibex hunt with J.J. Gómez Hunt is a complete success. You can unconditionally recommend this hunt with JJG hunting trips.
Hello, my name is Tobias, this is my first time here in Spain, we hunt a male ibex in Beceite my first impressions was the great landscape, we have seen a lot of wild animals it was an awesome assistance from J. J. Gómez Caza guide, i shoot around 160 metters a beautiful male and…
Beceite Ibex Trophies Classification
| | | |
| --- | --- | --- |
| SCI Score | Standard | Bow |
| Bronze Score Ibex | 69 | 62 |
| Silver Score Ibex | 75 | 4/8 0 |
| Gold Score Ibex | 80 1/8 | 66 1/8 |
| | |
| --- | --- |
| CIC Score | Standard |
| Bronze Score Ibex | 205 to 219'99 |
| Silver Score Ibex | 220 to 229'99 |
| Gold Score Ibex | 230 |
Conditions for the Beceite Ibex hunt
It is included:
Full board accommodation.
Hunting the specified animals.
Personalized attention with a specialized hunting guide.
First preparation of the trophy, hunting certificates, documentation of the trophies, seals …
An interpreter per group. Whole hunt day.
Transportation from/to the airport from/to hotel and hunting area.
It is NOT included
Extra personal desires.
Plane tickets.
Gun rent: €90/day , ammunition €5/bullet
Tips to the profesional hunter and his team.
Alcoholic drinks.
Personal extras.
Everything which is not included in the programme.
Reserves and payment:
In order to reserve, the hunter has to get in contact with us in order to choose the date. After that, we will give him/her the account number in order to pay a quantity of the total price.
In order to reserve, the 25% of the total price has to be earn, the rest will be paid when the hunt finish. Until the company does not receive the 25% of the money, the hunting will not be reserved.
Get the award Ibex Grand Slam Spanish and Capra World Slam with JJ. Gómez Caza
We have years of experience and a large number of satisfied hunters who have satisfied to achieve their disere hunting award. Come and enjoy a unique experience with us without worrying about a thing.
To hunt the Ibex and achieve the Grand Slam Ibex Spain award, we dedicate 10 days of hunting through Spanish territory. A measured and prepared program for you to meet the challenge.
Southeastern Ibex
Ronda Ibex
Beceite Ibex
Gredos Ibex
Capra World Slam in Spain
One of the most attractive and requested award in Spain is the Capra World Slam. 14 days of challenge fully measured for you. Get the most outstanding hunting award in Spain.
Pyrenean Chamois
Cantabrian Chamois
Beceite Ibex
Southeastern Ibex
Gredos Ibex
Ronda Ibex
Frequently asked questions about Beceite Ibex hunt
Who is the Beceite Ibex price?
The price varies according to the Ibex trophy you want to hunt. Contact us to request a personalized quote.
What is the hunting season for Beceite Ibex?
The Ibex Beceite is hunted from October to May. The dates with the most guarantees are from November to December. Check the Spain hunting season.
With which company to hunt a Beceite Ibex?
You can trust JJ. Gómez Caza so that we can organize your hunt successfully. We have years of experience hunting ibex and a large number of satisfied customers. If you decide to hire another company, make sure that it covers all your guarantees.
How many days are needed to hunt the Ibex Beceite in Spain?
2 days and 3 nights will be enough to take your trophy home.
Where is the Beceite Ibex hunted?
Near to the Mediterranean see between Teruel, Barcelona and Valencia. The nearest airports are Alacant and Valencia.

Enjoy Spanish gastronomy while hunting
In the same hotel you could enjoy of the best and authentic Spanish gastronomy, typical recipes from the zone, meat selection with the best wines and great quality ham, this is one of the strongest points of this lodgings, quality, peacefulness and good gastronomy.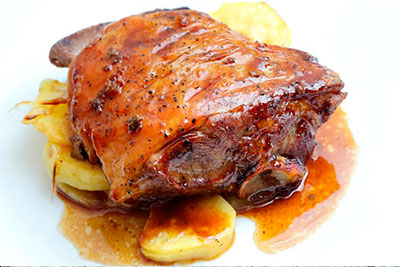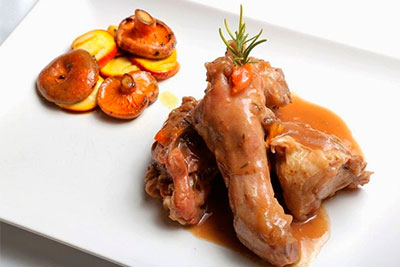 Other complementary activities
If through your stay in Spain, you want to make a leisure and tourism trip for your companions or family before, after or while you´re hunting, we will take care of everything, we have tourism guides ready to your service, just let us know.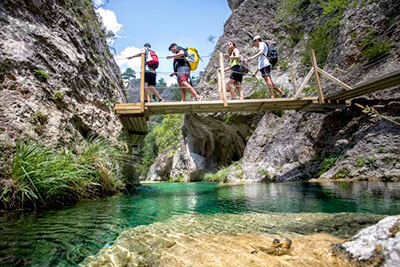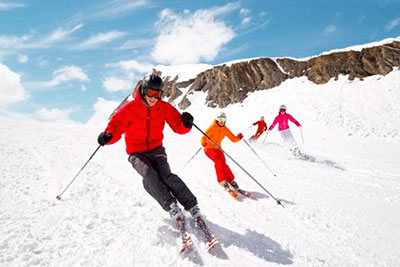 Typical celebrations and visits of Spain
Near of the hunting zone we can visit towns with tourist interest, in which can be do some guided trips.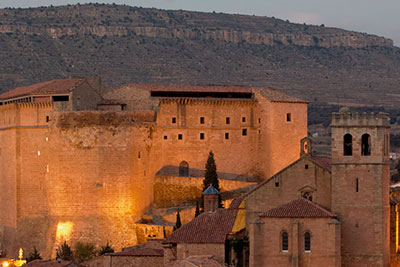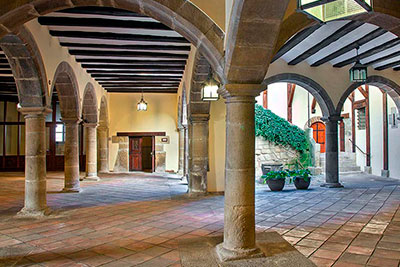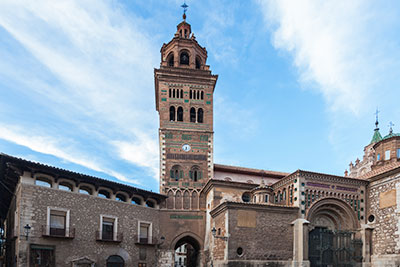 Accommodation in the hunting area
The hotel that we have arranged in our hunting zone, is a rural hotel at the edge of the town, you´ll find absolutely peace, an exclusive accommodation with only 11 rooms.