J.J. GÓMEZ CAZA – SPECIALISTS IN HUNTING IN SPAIN
Driven hunt in Spain, typical monteria in october.

SPECIAL OFFER EXCLUSIVE 2 DAY DRIVEN HUNT / 3 NIGH. ALL INCLUSIVE.
We offer spending a few days of hunting in Spain, we will hunt a estate open to wild boars without limit and the next day a fenced estate with a large quota of animals, fun will be guaranteed. You can enjoy with your group of friends the authentic Spanish Drive Hunting (montería), in which you will have the option to hunt many animals and be able to have a lot of fun.
We also offer you many other kinds of hunts that you can combine with these two large hunts. We will give you a personalized treatment, from the pick up at the airport until we drop you off again, our team will be aware of the group at all times. During the entire stay we will stay in a beautiful hotel surrounded by nature.
Come with us to live the authentic Spanish Drive Hunting (Montería) !!!
If you like to hunt some additional trophy before or after the hunting days, you can ask us and we will give you and special price.
Day 1; 24th october.
10-12 hunters.
80 dogs will participate
Hunting quota: free shooting wild boar.
Open estate, we would only hunt wild boar without a quota, we would probably do 2-3 hooks per day, depending on the dimensions and time it took us to hunt the open esate and the final number of hunters. We would hunt with a minimum group of 6 hunters.
Day 2; 25th october.
20 hunters.
350 dogs will participate.
Hunting quota: 1 red deer, 2 male (fallow deer or mouflon), 1 female red deer, 1 female mouflon, free female fallow deer and wild boar.
Fenced estate of 1,200 hectares. Only 10 seats are available.
Expectations: 12-15 wild boars.
Expectations: 45 males, 45-50 females.
Area: Puebla de Don Fabrique, Granada. 2.5 hours from Alicante airport.
There will be a rigorous draw for positions among all hunters.
Planning hunting days.
23th october. Arrival day to the Madrid airport and lunch in the estate.
24th october. Driven hunt. (Wild boar)
25th october. Driven hunt. (Mouflon, fallow deer, red deer…)
26th october. Breakfast and departure to airport.
Enjoy Spanish gastronomy while hunting.
We will enjoy the typical Spanish food and the good wines of the area.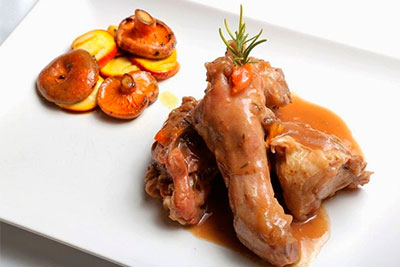 Accommodation near the hunting area.
We will sleep in a top quality hotel in the heart of the mountains. In which we will find all the comforts and that is located near the hunting area.
2 hunting day (driven hunt) / 3 night, full board accommodation 2.950€. (minimum  group 5 hunters)
It is included.
2 hunting days / 3 days full board accommodation (double room).
Licence and hunting insurance.
Personalized attention with a specialized hunting guide.
First preparation of the trophy, hunting certificates, documentation of the trophies, seals …
An interpreter per group.
Transportation from/to the airport from/to hotel and hunting area.
It is NOT included
Extra personal desires.
Flight tickets.
Gun rental: €250/day , ammunition €5/bullet
Tips to personal assistant 50€.
Alcoholic drinks.
Personal expenses.
Everything which is not included in the program.
Reserves and payment:
In order to reserve, the hunter has to get in contact with us in order to choose the date. After that, we will give him/her the account number in order to pay a quantity of the total price.
In order to reserve, you need make a transfer bank of € 1.500, the rest will be paid when the hunter arrive to the hunting area. Until the company does not receive the reserve payment, the hunting will not be reserved.
You can also hunt the spanish ibex, here are the offers